EJOT® COLORFAST SAPHIR CF19 JT2 D6 5.5/6.3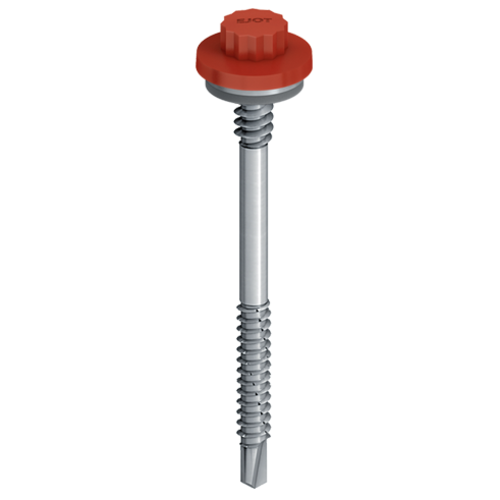 Specification
Applications

Steel Profiled insulated sandwich panels to light to medium steel sections.
Steel Profiled insulated sandwich panels to Timber with 45-50 embedment.

Properties

Carbon steel with organic corrosion resistant finish.
Assembled with integral Nylon head and Aluminium/EPDM vulcanised sealing washer.

Technical specifications

11mm Bi-Hex Socket.
Steel sections from 1.2 to 6.0 mm in thickness.
Other colours are available, please email customerservice@ejot.co.uk or call 01977 687040
Lead time on colorfast items available soon is approximately 3-5 working days
Important: Colour resolution may vary dependent upon your personal screen settings. Remember to use BSC or RAL code for exact match.
Filter
Select system
BSC

Select unit

Albatross BSC - 18-B-17

Goosewing Grey BCS 10-A-05

Juniper BSC 12-B-29

Merlin Grey BSC 18-B-25

Moorland Green BSC 12-B-21

Ocean Blue BSC 18-C-39

Olive Green BSC 12-B-27

Van Dyke Brown BSC 09-B-29

Wedgewood BSC 18-C-37

White BSC 00-E-55

RAL

Select unit

RAL5003

RAL7012

RAL7016

RAL7035

RAL9006

RAL9007

RAL9010

other
Orderidentifier

Article Number

Length mm

ø mm

Head Colour

Ø CF Sealing Washer

Clamp thickness mm

Unit

Availability

* Price / 100

CF19 JT2 D6 5.5/6.3 82 Goosewing Grey BSC 10-A-05

5408200049
82.0
5.5

19
28.0 - 68.0
6.0
11mm Bi Hex
100

CF19 JT2 D6 5.5/6.3 x 82 Merlin Grey BSC-18-B-25

9900000111
82.0
5.5

19
28.0 - 68.0
6.0
11mm Bi Hex
100

CF19 JT2 D6 5.5/6.3 x 82 Metallic Silver RAL9006

9900060529
82.0
5.5

19
28.0 - 68.0
6.0
11mm Bi Hex
100

CF19 JT2 D6 5.5/6.3 x 82 White BSC 00-E-55

9900100040
82.0
5.5

19
28.0 - 68.0
6.0
11mm Bi Hex
100

CF19 JT2 D6 5.5/6.3 x 82 Olive Green BSC 12-B-27

9900102330
82.0
5.5

19
28.0 - 68.0
6.0
11mm Bi Hex
100

CF19 JT2-D6-5.5/6.3 x 82 Wedgewood Blue BSC 18-C-37

9900103248
82.0
5.5

19
28.0 - 68.0
6.0
11mm Bi Hex
100

CF19 JT2 D6 5.5/6.3 x 82 Van Dyke Brown BSC 08-B-29

9900104753
82.0
5.5

19
28.0 - 68.0
6.0
11mm Bi Hex
100

CF19 JT2-D6-5.5/6.3 x 82 Juniper BSC 12-B-29

9900105200
82.0
5.5

19
28.0 - 68.0
6.0
11mm Bi Hex
100

CF19 JT2-D6-5.5/6.3 x 82 Anthracite Grey RAL 7016

9900105800
82.0
5.5

19
28.0 - 68.0
6.0
11mm Bi Hex
100

CF19 JT2-D6-5.5/6.3 x 82 Albatross

9900106007
82.0
5.5

19
28.0 - 68.0
6.0
11mm Bi Hex
100

CF19 JT2-D6-5.5/6.3 x 82 Ocean Blue BSC 18-C-39

9900106117
82.0
5.5

19
28.0 - 68.0
6.0
11mm Bi Hex
100

CF19 JT2 D6 5.5/6.3 x 102 Goosewing Grey BSC 10-A-05

5410219049
102.0
5.5

19
48.0 - 88.0
6.0
11mm Bi Hex
100

CF19 JT2-D6-5.5/6.3 x 102 Moorland Green BSC 12-B-21

5410219221
102.0
5.5

19
48.0 - 88.0
6.0
11mm Bi Hex
100

CF19 JT2 D6 5.5/6.3 x 102 White BSC 00-E-55

9900100039
102.0
5.5

19
48.0 - 88.0
6.0
11mm Bi Hex
100

CF19 JT2 D6 5.5/6.3 x 102 Van Dyke Brown BSC 08-B-29

9900101740
102.0
5.5

19
48.0 - 88.0
6.0
11mm Bi Hex
100

CF19 JT2 D6 5.5/6.3 x 102 Olive Green BSC 12-B-27

9900102032
102.0
5.5

19
48.0 - 88.0
6.0
11mm Bi Hex
100

CF19 JT2 D6 5.5/6.3 x 102 Metallic Silver RAL9006

9900103102
102.0
5.5

19
48.0 - 88.0
6.0
11mm Bi Hex
100

CF19 JT2 D6 5.5/6.3 x 102 Merlin Grey BSC 18-B-25

9900103541
102.0
5.5

19
48.0 - 88.0
6.0
11mm Bi Hex
100

CF19 JT2-D6-5.5/6.3 x 102 Juniper BSC 12-B-29

9900106817
102.0
5.5

19
48.0 - 88.0
6.0
11mm Bi Hex
100

CF19 JT2 D6 5.5/6.3 x 122 Olive Green BSC 12-B-27

9900060568
122.0
5.5

19
68.0 - 108.0
6.0
11mm Bi Hex
100

CF19 JT2 D6 5.5/6.3 x 122 Goosewing Grey BSC 10-A-05

9900100164
122.0
5.5

19
68.0 - 108.0
6.0
11mm Bi Hex
100

CF19 JT2 D6 5.5/6.3 x 122 White BSC 00-E-55

9900100807
122.0
5.5

19
68.0 - 108.0
6.0
11mm Bi Hex
100

CF19 JT2-D6-5.5/6.3 x 122 Albatross BSC 18-B-17

9900100869
122.0
5.5

19
68.0 - 108.0
6.0
11mm Bi Hex
100

CF19 JT2 D6 5.5/6.3 x 122 Metallic Silver RAL9006

9900103194
122.0
5.5

19
68.0 - 108.0
6.0
11mm Bi Hex
100

CF19 JT2 D6 5.5/6.3 x 122 Merlin Grey BSC 18-B-25

9900103542
122.0
5.5

19
68.0 - 108.0
6.0
11mm Bi Hex
100

CF19 JT2 D6 5.5/6.3 x 122 Van Dyke Brown BSC 08-B-29

9900104754
122.0
5.5

19
68.0 - 108.0
6.0
11mm Bi Hex
100

CF19 JT2-D6-5.5/6.3 x 122 Wedgewood BSC 18-C-37

9900105693
122.0
5.5

19
68.0 - 108.0
6.0
11mm Bi Hex
100

CF19 JT2-D6-5.5/6.3 x 122 Moorland Green BSC 12-B-21

9900105747
122.0
5.5

19
68.0 - 108.0
6.0
11mm Bi Hex
100

CF19 JT2-D6-5.5/6.3 x 122 Black BSC 00-E-53

9900106041
122.0
5.5

19
68.0 - 108.0
6.0
11mm Bi Hex
100

CF19 JT2-D6-5.5/6.3 x 122 Anthracite Grey RAL 7016

9900106135
122.0
5.5

19
68.0 - 108.0
6.0
11mm Bi Hex
100

CF19 JT2-D6-5.5/6.3 x 122 Pure White RAL 9010

9900106633
122.0
5.5

19
68.0 - 108.0
6.0
11mm Bi Hex
100

CF19 JT2-D6-5.5/6.3 x 122 Sargasso RAL 5003

9900106882
122.0
5.5

19
68.0 - 122.0
6.0
11mm Bi Hex
100

CF19 JT2-D6-5.5/6.3 x 122 Grey Aluminium RAL 9007

9900107086
122.0
5.5

19
68.0 - 108.0
6.0
11mm Bi Hex
100

CF19 JT2-D6-5.5/6.3 x 135 Juniper BSC 12-B-29

9900106791
135.0
5.5

19
81.0 - 121.0
6.0
11mm Bi Hex
100

CF19 JT2 D6 5.5/6.3 x 152 Goosewing Grey BSC 10-A-05

5415219005
152.0
5.5

19
98.0 - 138.0
6.0
11mm Bi Hex
100

CF19 JT2 D6 5.5/6.3 x 152 Merlin Grey BSC 18-B-25

5415219019
152.0
5.5

19
98.0 - 138.0
6.0
11mm Bi Hex
100

CF19 JT2 D6 5.5/6.3 x 152 White BSC 00-E-55

9900101293
152.0
5.5

19
98.0 - 138.0
6.0
11mm Bi Hex
100

CF19 JT2 D6 5.5/6.3 x 152 Olive Green BSC 12-B-27

9900101896
152.0
5.5

19
98.0 - 138.0
6.0
11mm Bi Hex
100

CF19 JT2-D6-5.5/6.3 x 152 Anthracite Grey RAL 7016

9900103197
152.0
5.5

19
98.0 - 138.0
6.0
11mm Bi Hex
100

CF19 JT2-D6-5.5/6.3 x 152 Juniper BSC 12-B-29

9900103253
152.0
5.5

19
98.0 - 138.0
6.0
11mm Bi Hex
100

CF19 JT2 D6 5.5/6.3 x 152 Metallic Silver RAL9006

9900103544
152.0
5.5

19
98.0 - 138.0
6.0
11mm Bi Hex
100

CF19 JT2 D6 5.5/6.3 x 152 Van Dyke Brown BSC 08-B-29

9900104755
152.0
5.5

19
98.0 - 138.0
6.0
11mm Bi Hex
100

CF19 JT2-D6-5.5/6.3 x 152 Albatross BSC 18-B-17

9900105528
152.0
5.5

19
98.0 - 138.0
6.0
11mm Bi Hex
100

CF19 JT2-D6-5.5/6.3 x 152 Moorland Green BSC 12-B-21

9900105745
152.0
5.5

19
98.0 - 138.0
6.0
11mm Bi Hex
100

CF19 JT2-D6-5.5/6.3 x 152 Oyster RAL 7035

9900106864
152.0
5.5

19
98.0 - 138.0
6.0
11mm Bi Hex
100

CF19 JT2 D6 5.5/6.3 x 172 Goosewing Grey BSC 10-A-05

5417219005
172.0
5.5

19
118.0 - 158.0
6.0
11mm Bi Hex
100

CF19 JT2 D6 5.5/6.3 x 172 Merlin Grey BSC 18-B-25

9900060437
172.0
5.5

19
118.0 - 158.0
6.0
11mm Bi Hex
100

CF19 JT2 D6 5.5/6.3 x 172 Metallic Silver RAL9006

9900060666
172.0
5.5

19
118.0 - 158.0
6.0
11mm Bi Hex
100

CF19 JT2-D6-5.5/6.3 x 172 Juniper BSC 12-B-29

9900101227
172.0
5.5

19
118.0 - 158.0
6.0
11mm Bi Hex
100

CF19 JT2 D6 5.5/6.3 x 172 Olive Green BSC 12-B-27

9900102564
172.0
5.5

19
118.0 - 158.0
6.0
11mm Bi Hex
100

CF19 JT2-D6-5.5/6.3 x 172 Basalt Grey RAL 7012

9900107312
172.0
5.5

19
118.0 - 158.0
6.0
11mm Bi Hex
100

CF19 JT2-D6-5.5/6.3 x 192 Goosewing Grey BSC 10-A-05

9900106717
192.0
5.5

19
138.0 - 178.0
6.0
11mm Bi Hex
100

CF19 JT2-D6-5.5/6.3 x 232 Wedgewood Blue BSC 18-C-37

9900106896
232.0
5.5

19
178.0 - 218.0
6.0
11mm Bi Hex
100
Delivery status: