How prognosis software can accelerate R&D programmes with cost saving potential
Bespoke online tools from EJOT help design engineers speed up research and development programmes by reducing the need for testing and delivering cost-saving potential. As a specialist in direct fastening into metals and thermoplastics, EJOT is at the forefront of innovation by helping designers to reduce weight of assemblies, with the confidence to securely join multiple-materials. For example, the performance of two of EJOT's most utilised fasteners can be anticipated digitally through custom-designed prognosis software; DELTA CALC® and ALtra CALC®. Both programs enable fastening parameters to be calculated by taking into account the type of materials to be joined along with broader design criteria.

Pre-calculation of screw joints has already proven to lead to a clear reduction of development time and significant savings for design budgets. Making accurate calculations early can prevent over-dimensioning of the screw joint and ensures intensive testing is reduced to a minimum. Similar prognosis software has also been developed by EJOT for its EVO PT® screw (a further option for direct fastening into thermoplastics) and FDS®, which joins thin sheet metals made of steel and aluminium to a high performance strength without the need for a pilot hole.
 
DELTA CALC® - the smart prognosis tool for direct thermoplastic fastening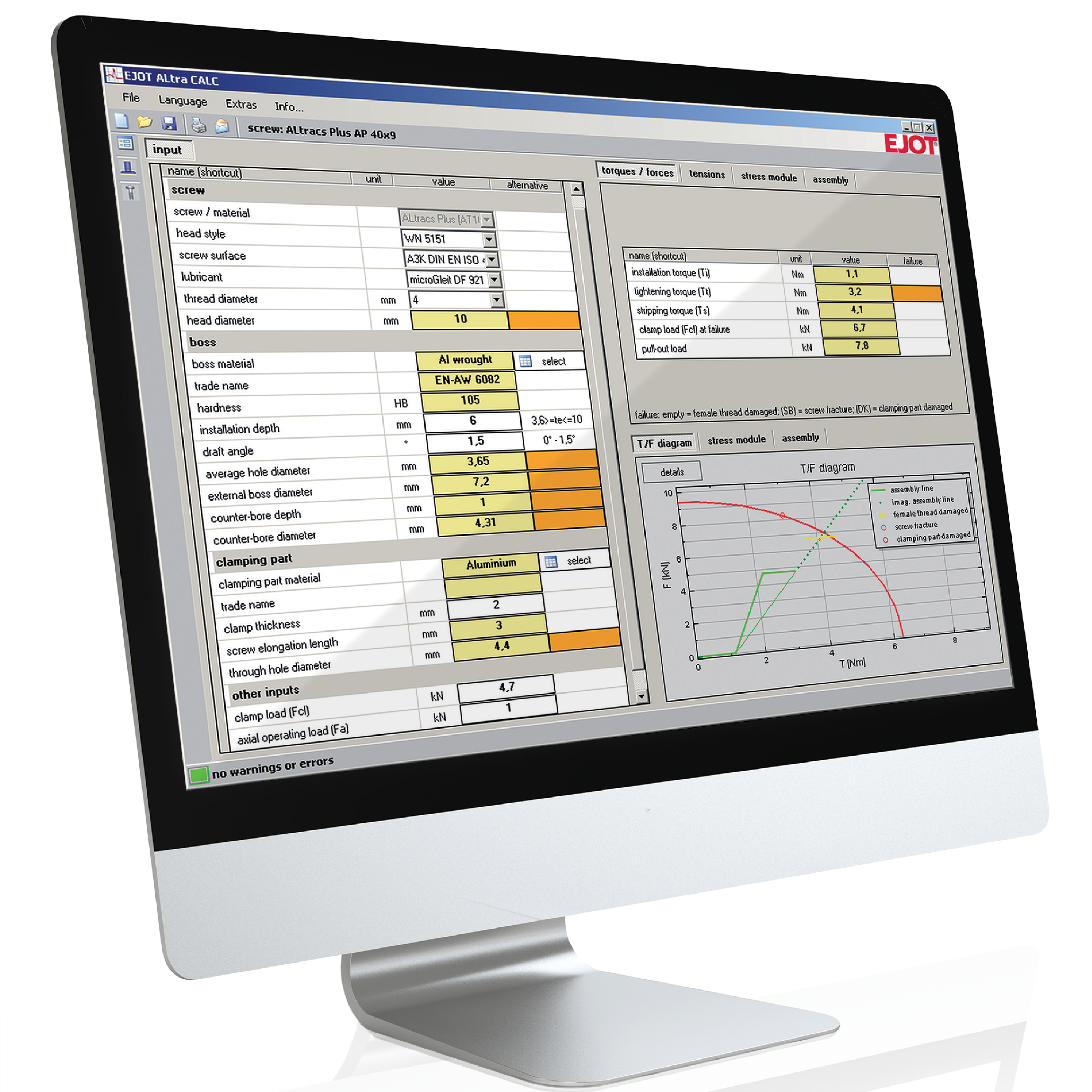 An important tool for the pre-dimensioning of direct fastening into thermoplastics, DELTA CALC® provides a prognosis program specifically for EJOT DELTA PT® screws. The EJOT DELTA PT® screw is a special fastening element designed for reliable and easy direct assembly into thermoplastics. It has a wide range of application potential and is well established in global automotive manufacturing, largely because this screw is designed to accommodate the very high loads which automotive applications have to withstand.

Performance reliability of the EJOT DELTA PT® is achieved through its special thread geometry, developed by closely analysing the material displacement during thread-forming. Flank angles at 20° and 30° reduce the radial stress compared to common thread flanks with 60° angles. The thread flank guarantees optimum material flow of the formed plastic even with reinforced thermoplastic, helping the DELTA PT® screw to balance the highest possible clamp load and low surface pressure in the plastic, to achieve very high thread engagement even at small installation depths.

Based on the mechanical parameters of many thousands of applications and test assemblies, EJOT has collected a huge amount of data which makes it possible to determine the reliable clamp load calculations for thermoplastic material in line with VDI 2230. This gives designers a major advantage by being able to determine their pre-design requirements through the prognosis program.
ALtra CALC® - supporting designers with direct fastening into light metal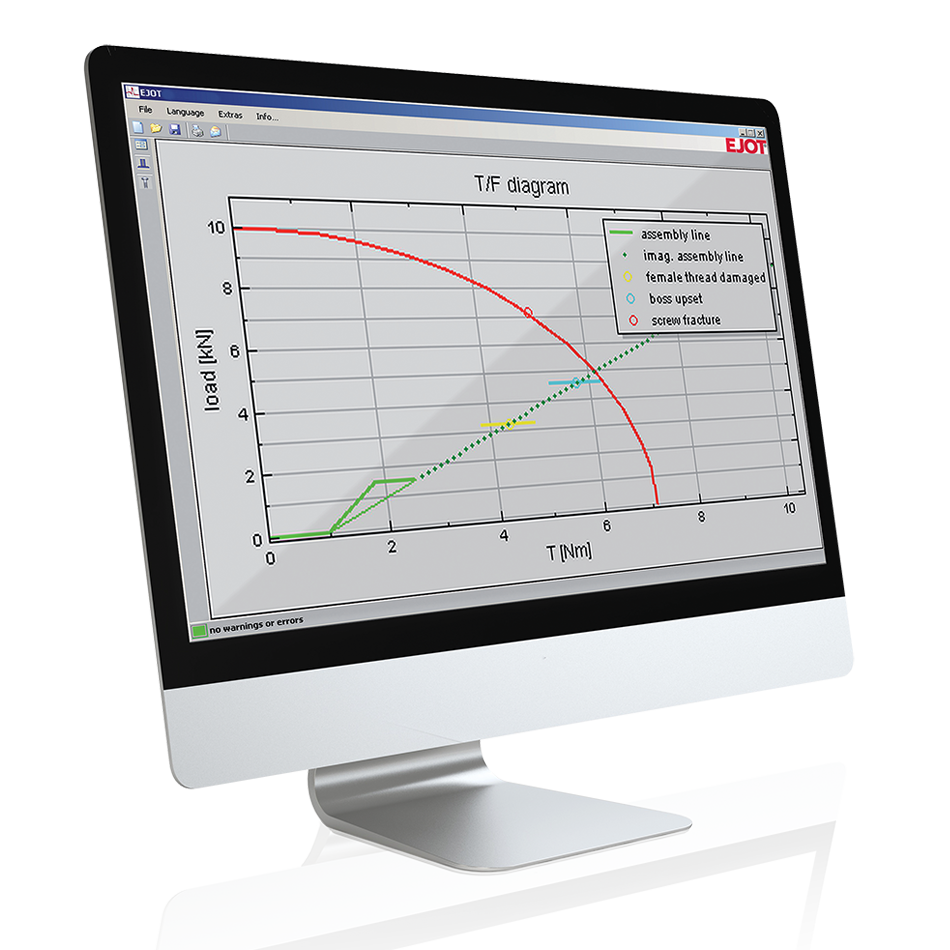 EJOT ALtra CALC® has been developed for the prognosis of direct fastening into light metal using EJOT ALtracs® Plus screws. These are bespoke self-tapping fasteners which offer maximum strength in light metal joints up to a hardness of 140 HB.

Designed for direct assembly into cast holes, ALtracs® Plus enables significant cost savings to be realised compared to metric screws through its ability to reduce the number of work steps, such as thread cutting.

As with DELTA CALC®, EJOT ALtra CALC® is optimised because it considers the thread-forming and specific properties of directly fastened materials using light metals such as aluminium and magnesium. This makes the prognosis tool a valuable design aid for design engineers by providing effective and precise calculations.
Why EJOT's bespoke prognosis programs offer design assurance
EJOT's prognosis tools work to ensure the engineering design is optimised for clamp load and assembly. The clamp load – the actual quality criterion of a screw joint – is the main parameter for the calculations. By specifying the clamp load and the mating and clamping material, a reliable calculation of the screw dimension and required tightening torque is possible, which is needed to safely reach the specified clamp load in a process reliable way. A reverse calculation, which means the specification of the tightening torque for determination of the clamp load, is also possible with these tools.

In terms of calculating the optimum assembly parameters, programs can calculate different failure modes, such as stripping or screw fracture, and their occurrence – clamp load at stripping, for example. With this knowledge it is possible to set the optimum installation parameters with the program in order to minimise the risk for errors and guarantee a process reliable assembly.

In addition, DELTA CALC® will also enable effective dimensioning of the boss hole, making it capable of simulating the effect of variations within realistic boundaries thanks to material data bank of approximately 350 different thermoplastics. The program will also provide a prognosis of the long-term performance of a screw joint taking into account the relaxation behaviour of the plastic depending on time and temperature.

ALtra CALC® is tailored too, with functionality for dimensioning of the screw joint using an integrated material data bank complete with a selection of many different light metal alloys for the calculation of the joint. This tool will also simulate the coating and lubricating effects when directly fastening into light metals.

This is important because the screw surface has a significant influence on the resulting torques and clamp loads. ALtra CALC® helps by containing 14 different screw surfaces, which can be optionally combined with various lubricants. In combination with the fastened material and the head connecting surface, the respective friction values can be determined, which are then used for calculation of the torques and clamp loads.
​​​​​​​Request your free access to DELTA CALC® and ALtra CALC®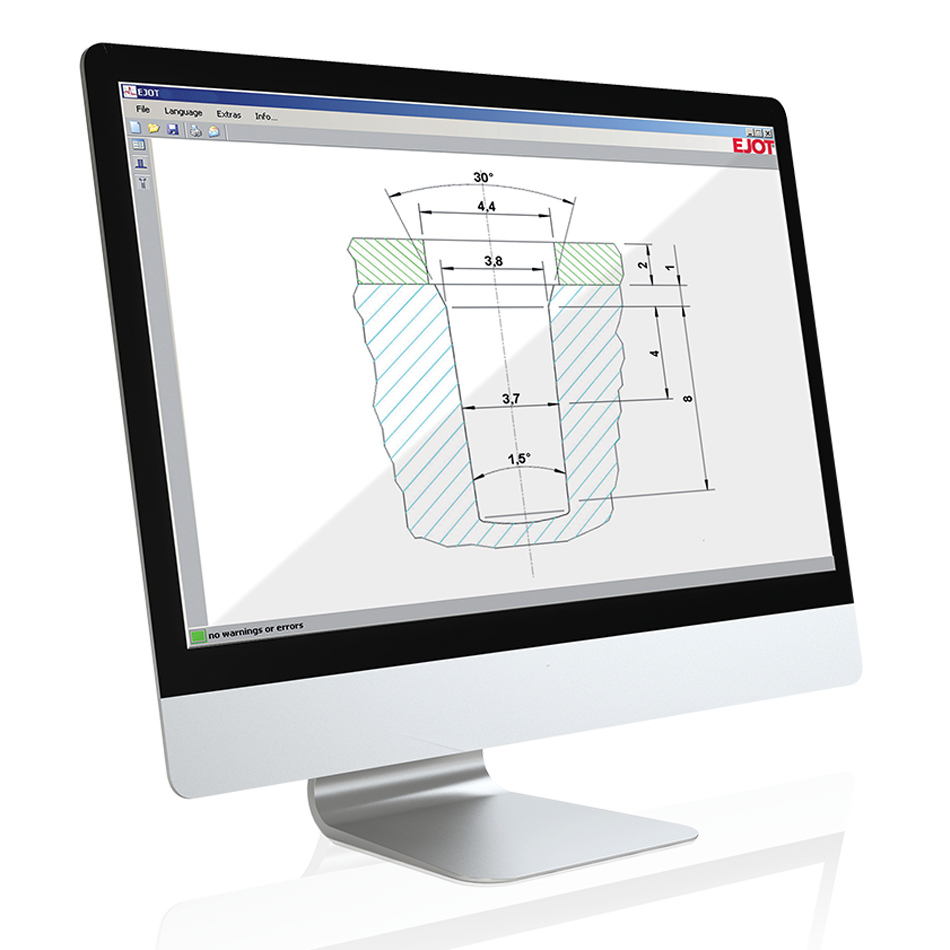 Design engineers can register to use EJOT's bespoke prognosis software free of charge, along with accessing a wide range of other services such as CAD data and product information by following the link her.

A 'light version' of DELTA CALC® and ALtra CALC® can be accessed directly online, providing 24/7 access in a user-friendly format that is optimised for independent use.
​​​​​​​
For highly complex applications that might not be covered by the light version, access can be provided by our EJOT application engineers. Call EJOT UK on 01977 687040 for more information or assistance with registration.