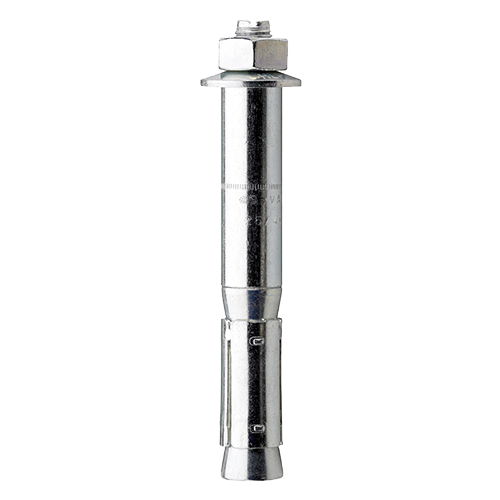 Specification
Applications

Fixing down of Steel Baseplates.
Fixing down of Columns
Fixing down of Structural Steel Beams

Properties

Carbon steel zinc plated.

Technical specifications

Double cone expansion anchor
ETA approved for cracked and non cracked concrete.
Hex Nut
Size Range M6-M16.
Carbon steel zinc plated.
For any further assistance, please email liebig@ejot.co.uk or select Downloads for any technical information.
Orderidentifier

Article Number

ø mm

Length mm

Clamping thickness B ≥ mm

Hole depth t ≤ mm

Unit

LIEBIG® Safety Bolt B M6-10/45/5

9650045005
10.0
70.0
5.0
60.0
5.0
Carbon Steel
10.0
50

Specifications

ø

10.0

Length

70.0

Clamping thickness B ≥

5.0

Hole depth t ≤

60.0

Clamp thickness

5.0

Material

Carbon Steel

Thread diameter

10.0

Orderidentifier

LIEBIG® Safety Bolt B M6-10/45/5

Unit

50

LIEBIG® Safety Bolt B M6-10/45/15

9650045015
10.0
80.0
15.0
60.0
15.0
Carbon Steel
10.0
50

Specifications

ø

10.0

Length

80.0

Clamping thickness B ≥

15.0

Hole depth t ≤

60.0

Clamp thickness

15.0

Material

Carbon Steel

Thread diameter

10.0

Orderidentifier

LIEBIG® Safety Bolt B M6-10/45/15

Unit

50

LIEBIG® Safety Bolt B M8-12/55/15

9652055015
12.0
95.0
15.0
70.0
15.0
Carbon Steel
12.0
25

Specifications

ø

12.0

Length

95.0

Clamping thickness B ≥

15.0

Hole depth t ≤

70.0

Clamp thickness

15.0

Material

Carbon Steel

Thread diameter

12.0

Orderidentifier

LIEBIG® Safety Bolt B M8-12/55/15

Unit

25

LIEBIG® Safety Bolt B M8-12/55/40

9652055040
12.0
120.0
40.0
70.0
40.0
Carbon Steel
12.0
25

Specifications

ø

12.0

Length

120.0

Clamping thickness B ≥

40.0

Hole depth t ≤

70.0

Clamp thickness

40.0

Material

Carbon Steel

Thread diameter

12.0

Orderidentifier

LIEBIG® Safety Bolt B M8-12/55/40

Unit

25

LIEBIG® Safety Bolt B M10-15/70/15

9655070015
15.0
110.0
15.0
85.0
15.0
Carbon Steel
15.0
25

Specifications

ø

15.0

Length

110.0

Clamping thickness B ≥

15.0

Hole depth t ≤

85.0

Clamp thickness

15.0

Material

Carbon Steel

Thread diameter

15.0

Orderidentifier

LIEBIG® Safety Bolt B M10-15/70/15

Unit

25

LIEBIG® Safety Bolt B M10-15/70/40

9655070040
15.0
135.0
40.0
85.0
40.0
Carbon Steel
15.0
10

Specifications

ø

15.0

Length

135.0

Clamping thickness B ≥

40.0

Hole depth t ≤

85.0

Clamp thickness

40.0

Material

Carbon Steel

Thread diameter

15.0

Orderidentifier

LIEBIG® Safety Bolt B M10-15/70/40

Unit

10

LIEBIG® Safety Bolt B M12-20/80/40

9650080040
20.0
155.0
40.0
100.0
40.0
Carbon Steel
20.0
10

Specifications

ø

20.0

Length

155.0

Clamping thickness B ≥

40.0

Hole depth t ≤

100.0

Clamp thickness

40.0

Material

Carbon Steel

Thread diameter

20.0

Orderidentifier

LIEBIG® Safety Bolt B M12-20/80/40

Unit

10

LIEBIG® Safety Bolt B M12-20/80/15

9650280015
20.0
130.0
15.0
100.0
15.0
Carbon Steel
20.0
10

Specifications

ø

20.0

Length

130.0

Clamping thickness B ≥

15.0

Hole depth t ≤

100.0

Clamp thickness

15.0

Material

Carbon Steel

Thread diameter

20.0

Orderidentifier

LIEBIG® Safety Bolt B M12-20/80/15

Unit

10

LIEBIG® Safety Bolt B M16-25/100/15

9655100015
25.0
160.0
15.0
125.0
15.0
Carbon Steel
25.0
5

Specifications

ø

25.0

Length

160.0

Clamping thickness B ≥

15.0

Hole depth t ≤

125.0

Clamp thickness

15.0

Material

Carbon Steel

Thread diameter

25.0

Orderidentifier

LIEBIG® Safety Bolt B M16-25/100/15

Unit

5

LIEBIG® Safety Bolt B M16-25/100/40

9655100040
25.0
185.0
40.0
125.0
40.0
Carbon Steel
25.0
5

Specifications

ø

25.0

Length

185.0

Clamping thickness B ≥

40.0

Hole depth t ≤

125.0

Clamp thickness

40.0

Material

Carbon Steel

Thread diameter

25.0

Orderidentifier

LIEBIG® Safety Bolt B M16-25/100/40

Unit

5