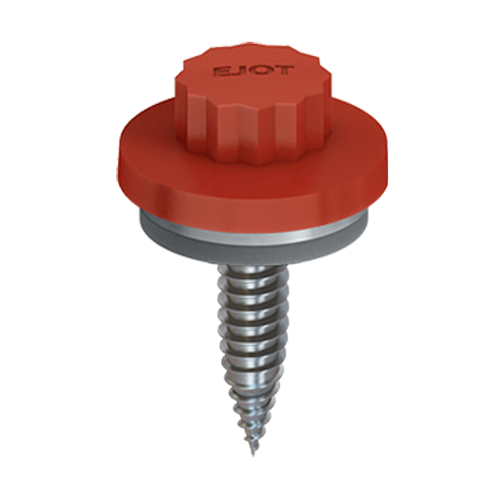 Specification
Applications

For fixing metal to profiled metal sheet or sandwich panels.

Properties

Case hardened carbon steel with innovative point geometry.
Aluminium sealing washer.
Pre-assembled sealing washer.
Non-skid application
Fastening without swarf.

Technical specifications

Drive Socket-11mm Bi Hex One Piece Socket
Stitching 2 x 0.5mm up to 1.0mm in thickness.
When choosing your product variant below, you can still complete your order including products displayed as available soon.
On completion of the checkout process you will receive an email confirming delivery date of outstanding quantities.
.
Important: Colour resolution may vary dependent upon your personal screen settings. Remember to use BSC or RAL code for exact match.
Filter
Select system
BSC

Select color

Goosewing Grey BCS 10-A-05

Wedgewood BSC 18-C-37
Orderidentifier

Article Number

Length mm

ø mm

Head Colour

Ø CF Sealing Washer

Clamp thickness mm

Unit

Availability

* Price / 100

CF19 JF2-2-5.5 x 25 Goosewing Grey BSC 10-A-05

9900105259
25.0
5.5

19
0.5 - 8.0
2.0
100

CF19 JF2-2-5.5 x 25 Wedgewood Blue BSC 18 C 37

9900106173
25.0
5.5

19
0.5 - 8.0
2.0
100
Delivery status: